Aspire Locums is a regular exhibitor at Pulse Live Events throughout the United Kingdom. Liverpool is a must for us because this is our home city, but you can find us at other selected venues across the UK. Why not visit the Pulse Live Events calendar and see where we are next. Pulse Live also offers free places for delegates.
Click
here
for more information
Pulse Live Birmingham 2018
We attended the Birmingham event in 2018 for the first time and it was a great success. We are now looking to grow our business in the West Midlands and deliver good quality doctors, nurses, healthcare assistants and clinical pharmacists to general practice
Pulse Live Liverpool 2017
At the Pulse Live Liverpool 2017 it was good to see so many repeat visitors to our stand. It is always nice to see a familiar face.
Pulse Live Liverpool 2016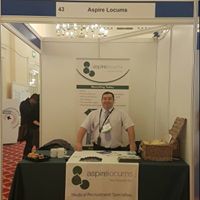 Aspire Locums attended the Pulse Live Liverpool event for the first time in 2016
Disclaimer;
Aspire Locums does not receive any rewards (financial or otherwise) for publishing the training calander or events. We
provides links to third party websites for your convenience only and cannot accept responsiblity for the security of these websites or the information found.